4 Days 3 Nights Gorilla Trekking In Rwanda
A unique way to share our continent's special ecology with your family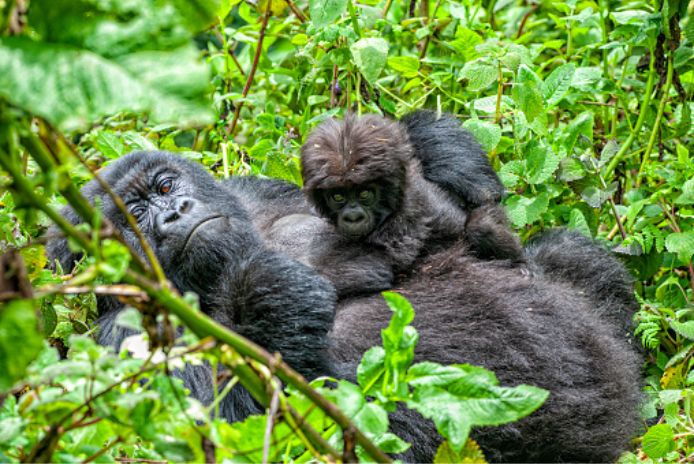 SAFARI OVERVIEW
Your 4 days gorilla safari adventure in Rwanda will give a great experience of a lifetime safari  adventure with visiting the gorillas in their wilderness, and as well having a Golden monkey trek, visit the  genocide museum site in Kigali, and the cultural site in Musanze.  
ITINERARY 
Day 1: Arrival in Kigali 
Arrival at Kigali International Airport, meet and greet assistance, you will be warmly welcomed  by our company staff for briefing about the safaris then introduction to your driver guide. Transfer to  Kigali Serena Hotel for check in. 
Meal: Dinner 
Accommodation: Kigali Serena Hotel (Luxury) 
Mid Range Accommodation: Hotel des Mille Collines  
Day 2: Kigali city tour and transfer to Volcanoes National Park 
Today after taking your early morning breakfast, you will checkout of the lodge and drive to  visit the Kigali genocide memorial center, which honors the memory of the more than one  million Rwandans killed in 1994 through education and peace-building. You will be able to watch and listen to some video clips from some of the survivors' of the incident. Later after  lunch you will proceed with a drive to Volcanoes NP through the magnificent route to your  booked accommodation, spend the rest of the afternoon relaxing and preparing for the next  day's trekking. 
Meals: Breakfast , Lunch and Dinner 
Accommodation: Luxury Accommodation: Five Volcanoes Boutique Hotel Mid Range Accommodation: Le Bamboo Gorilla Lodge  
Day 3: Gorilla Trekking in Volcanoes National Park 
After an early morning breakfast, you will be transferred to the park headquarters. You will  meet with your ranger who will brief you about the code of conduct while with the gorillas. You  will then enter the forest search of the gorillas. The trekking may take 2-6 hours depending on  the movement of the gorillas in the jungle and your group speed as well. Meet and stay with  the gorillas for a maximum of one hour. After a great experience you will walk back to the  starting point and be transferred to your lodge for lunch, and after lunch, you can decide to  relax at your lodge at your leisure or head for a cultural encounter with a walking tour to  different sites to get an insight of Rwandan culture. Dinner and overnight at the hotel. 
Gorilla Trekking in the Volcanoes National Park offers visitors the unique opportunity of  discovering the 10 families of gorillas that live within the national park. Visitors can enjoy a cup  of coffee before the trek starts and will be separated into groups of 8 depending on their  physical abilities. Each group is guided by a guide and two scouts who are well trained in  emergency situations. The amount of time set aside per trek is different depending on where  the gorilla family is situated. Some trips may take as little as half an hour and some take the  better part of the day. 
Meals: Breakfast , Lunch and Dinner 
Luxury Accommodation: Five Volcanoes Boutique Hotel 
Mid Range Accommodation: Le Bamboo Gorilla  
Day 4: Golden monkey trekking and transfer to Kigali for departure 
Today after your warm early morning breakfast, you will be picked by our safari driver guide  who will transfer you to the park headquarters for a briefing with your packed lunch and start off  your day golden monkey trekking in search of these primates in the jungle. Just like the gorilla  trekking experience, the same applies to golden monkey trekking though not so hectic like  gorilla trekking. Volcanoes National Park in Rwanda offers Golden monkeys trekking. 
This  unique experience allows guests in groups of up to eight to look for and discover golden monkeys within their natural habitat. The monkeys are incredibly active and enjoy showing off  for tourists and researchers that they encounter daily. The monkeys can be found closer to the  base of the volcano and enjoy eating the bamboo vegetation in the area. You will later return to the lodge for lunch and later transfer to Kigali, if time  permits, head for a brief city tour, before your evening airport transfer. 
Meals: Bed and Breakfast 
This safari package includes. 
Transportation in a 4×4 safari vehicle 

Accommodation and meals as per itinerary 

Kigali city tour 

Cultural tour 

1 Gorilla permits ($1500), per person 

Golden monkey permit 

En route lunches 

Visit to genocide memorial ground 

Services of English/French speaking driver/guide 

1 liter bottle of mineral water per day per person during safari 
The package excludes expenses of personal nature like: 
Air fare 

Visa 

Drinks 

Laundry 

Tips to local guides 

Telephone 

Porter fee while trekking 

Personal insurance

Personal shopping bills and cigar