5 Days 4 Nights Sirimon Safari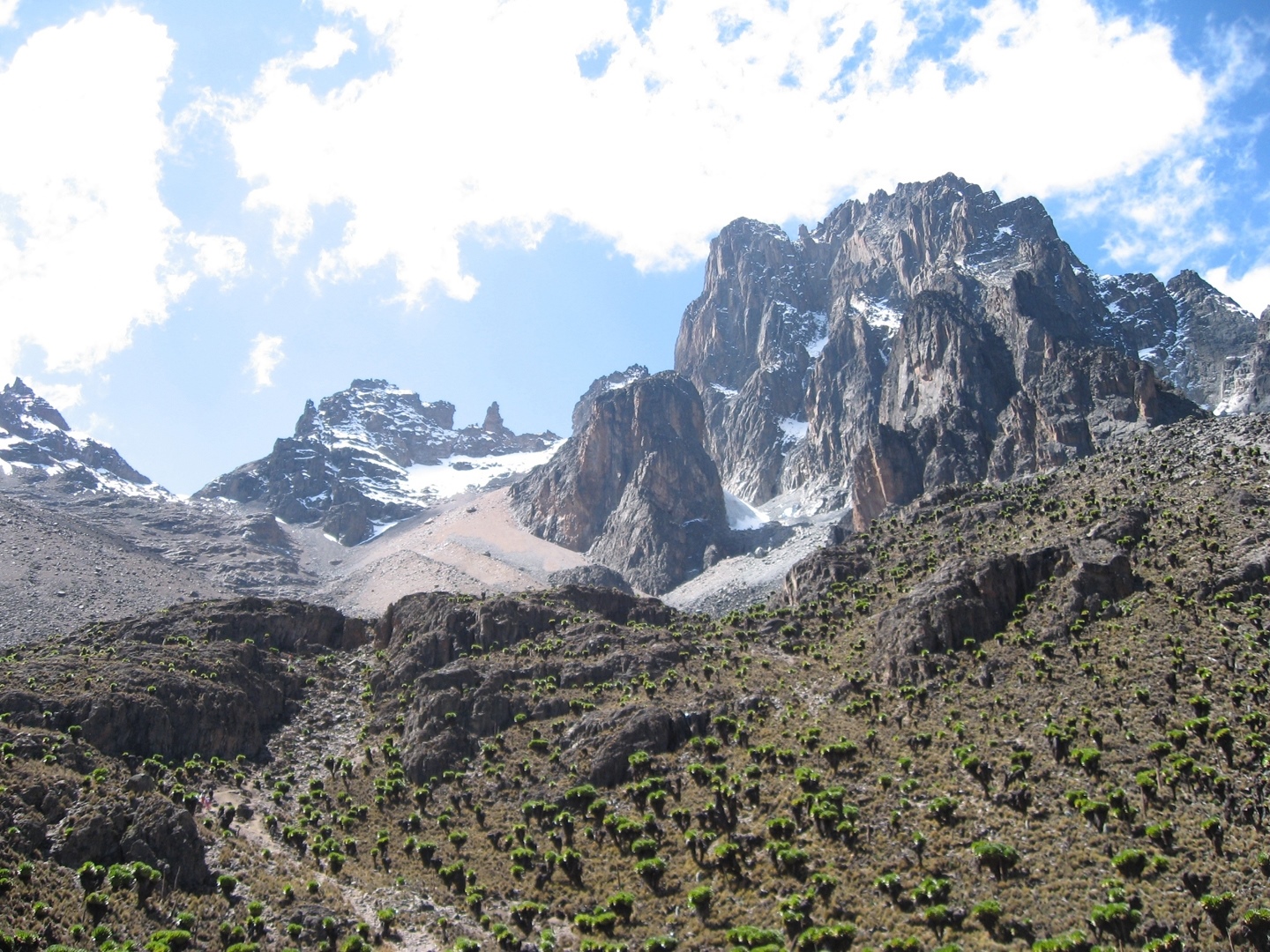 Sirimon Route Itinerary Highlights
Find yourself whisked away from the hustle and bustle of busy city life and entranced in the calm beauty of Nairobi and Chogoria. Sit and ponder the stillness of a sunset at the summit of an African mountain on this magical safari journey. Experience virgin forests, view a surreal scene of towering peaks and glaciers and record amazing photographic images on your once-in-a-lifetime safari adventure.
Day 1: Nairobi – Sirimon – Judmaier Camp 
After an early pick up in Nairobi, drive North towards Nanyuki for about 3 hours 40 min passing by the equator stopping for Lunch at Nanyuki. Proceed to Sirimon Gate, taking approximately one hour and gaining an elevation of 2440m. This track provides the most comfortable access to the northern side of the central peaks and the North Face Standard Route on Batian. From the gate, follow the path as it traverses through the forest. The last leg of the trek leads to Judmaier Camp at 3350 m.
Meals and Overnight at Judmaier Camp 

Trek gain 9km with an 860m ascent

Three to Four Hours Trek 

Elevation 3350m
Day 2: Judmaier Camp to Shipton Camp
The day starts at 0800 hours, following the track uphill to the spectacular Mackinder Valley past strange giant groundsel and lobelia plants to emerge onto Shipton's Camp at 4,236m. This trek crosses the Ontulili river, contouring through the Moorland and traveling Liki North, a surreal setting below the towering peaks and glaciers, with its resident populations of bizarre rock hyrax and beautiful sunbirds, below the three prominent peaks of Batian, Lenana, and Nelion at 4,300m. Accomplish an invigorating safari day with approximately eight hours of comfortable safari trekking.
Meals and Overnight at  Shipton Camp

Trek gain 17km with an 900m ascent

Six to Seven Hours Trek 

Elevation 4200m
Day 3:  Shipton Camp – Acclimatization Day
This day is spent acclimatizing with two options: by resting or by trekking to Kami Hut and down to Hausberg  Lakes before returning to the camp for lunch. An afternoon can be spent relaxing at leisure ahead of the big day tomorrow.
Meals and Overnight at Shipton Camp

Elevation 4200m 
Day 4: Shiptons – Point Lenana – Mount Meru Bandas to Chogoria Gate
We leave around 2:30 am after a quick light breakfast and proceed up a steep rocky quarry that cuts through a cliff clearing. We continue to traverse towards lower Hall Tarns, arriving at the Summit Lenana, 6km from Shipton Camp, at 6:00 am, just before sunrise. This trek takes about three hours, at an approximate elevation of 4985m above sea level. After enjoying the sunrise and the jubilation of summiting the mountain, we descend down to Mintos hut for a 6km journey taking about two hours. Here, we will enjoy breakfast. Our guide proceeds with the hike for an additional 20km, or four to five hours further down to the Mount Kenya Bandas at an elevation of 2950m.
You can enjoy log fires, hot showers and bed at the Bandas!
Meals and overnight at the Bandas

Trek gain 32km with an 1700m ascent

Eleven to Twelve Hours Trek 

Elevation 2950m
Day 5: Chogoria Bandas – Chogoria – Nairobi 
After breakfast, which is the last meal you'll eat in the mountains, you can either walk down by trekking for two hours or 15km, to the forest clearance. Descending on a broad track through bamboo and virgin rainforest, we meet vehicles returning to Nairobi – usually arriving mid to late afternoon.
Included In Your Safari Adventure Package for Chogoria Route Itinerary:
Guarantee trek and price quote on confirmation

Transfer to and from the base of the mountain

Full board accommodation for breakfast, lunch, and dinner

Accommodations in camps and huts as per the itinerary

All park entrance fees, including government taxes

Professional guide who speaks fluent English

Service of  professional porters and skilled cook/si

Drinking Water along the trek
Jemu Expeditions does not cover or incur the following costs:
​
Commercial or private flights 

Visa or passport costs

Items of personal nature

Laundry, tips, sleeping bags, drinks other than water provided during expedition

Accommodation before or after trek

Climbing, hiking and outdoor gear (we will provide a suggested list of items to purchase)

Health, accident or travel insurance

Other extras not detailed in the above itinerary
Suggested Packing List for Chogoria Route Itinerary:
​
Waterproof rucksack with day pack

Three season sleeping bag 

Roll mats and insulation pads

Comfortable hiking boots, light walking trainers thongs, flip – flops

Gaiters (useful when encountering snow),Wooden walking stick / ski pole, sunglasses or snow – goggles, sun hat, balaclava or woolen hat, warm scarf, gloves, mittens and thermal underwear

Sweaters, jumpers, anorak or raincoat, water and windproof pants, jackets, t-shirt, several pairs of socks

Long sleeved shirt with collar, small towel, toiletries and toilet paper

Sunscreen and lip salve

Flash light (head mounted preferable) and spare batteries

Water bottle

Camera with spare film, SD card, waterproof carry case and batteries