7 Days 6 Nights Land and Lakes Kenyan Safari
Trek from wildlife haven to the next endangered animal environment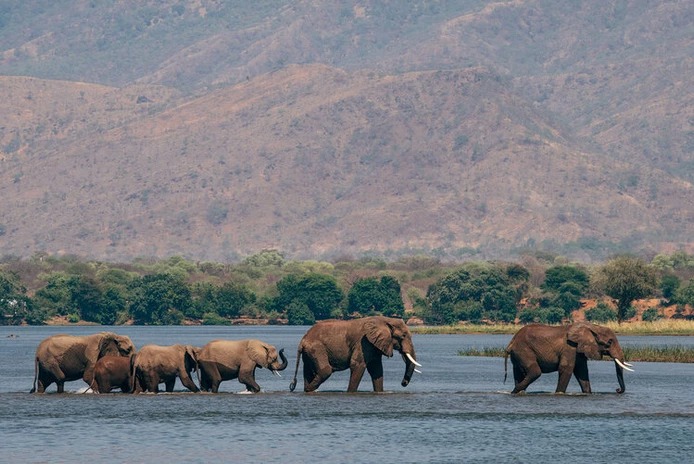 Kenyan Safari Highlights
Trek from wildlife haven to the next endangered animal environment, talk to local park rangers and see the behind the scenes daily care of the famous endangered white rhinos at Ol Pejeta National Park, where the documentary Kifaru was filmed. Meander and hike by rivers, enjoy Navair lake and enjoy meeting local tribal peoples and learn about their culture. This is an African safari that will be at the top of your adventure list!
Arrival
Upon arrival and disembarking from the plane, pass through customs and immigration offices for clearance; upon exit, our team member will pick you up for transfer to the hotel for the overnight stay.
Day 1: Nairobi – Samburu National Reserve
Meet and greet our representative at the Jomo Kenyatta International Airport. Depart from the airport heading to Samburu National Reserve. Enjoy an exciting road trip passing through Laikipia County, where you will have a chance to see endless ranches. Delight in the idyllic slow-paced lifestyle of the countryside as you relax and enjoy the drive. Arrive at the park and check-in at the hotel for lunch, and unwind from your journey. An afternoon game drive can be held – time permitting.
Overnight lunch and dinner at Larsens Tented Camp

Lodging at Samburu Simba Lodge or complimentary accommodations
Day 2: Samburu National Reserve 
We rise for an early start in the morning, so luck will be on our side to spot predators as they hunt or retreat back to their hiding places after a successful night at the reserve!
Samburu National Reserve is situated at the southeastern corner of Samburu District in the Rift Valley Province of Kenya and bordered to the south by Ewaso Nyiro River, which separates it from the Buffalo Springs National Reserve. The climate of Samburu is hot and dry during the day and cools during nights and evenings. The Samburu tribe of Kenya, a tribe known for their remote culture, pastoral and nomadic way of life, are park neighbors.
The reserve's topography is mainly open savannah, grassland, acacia trees, forest, thorn trees, and grassland vegetation. Samburu National Reserve was one of the two areas in which conservationists George and Joy Adamson raised Elsa the Lioness. Their story was made famous by the bestselling book and award-winning movie "Born Free".
Return to your hotel for lunch. The afternoon will consist of Samburu Cultural Tours, where we visit the local Samburu villages. Interact with the colorful Samburu people in their traditional setting and experience their culture and way of life. Take the opportunity to purchase traditional Samburu souvenirs, art, and collectibles and support the local tribe.
After we visit with the Samburu people, we leave for an evening game drive with the sunset at Samburu National reserve as our backdrop! This is stunningly beautiful so keep your cameras ready. Before nightfall, we return to our hotel for dinner.
Overnight lunch and dinner at Samburu Simba Lodge or similar lodge

Lodging at Samburu Simba Lodge or complimentary accommodations
Day 3: Samburu – Olpejeta Conservancy 
We move on from our adventure in Samburu, have breakfast, and check out of the hotel for a morning game drive en route to Ol Pejeta Conservancy. Arrive at Ol Pejeta in time for lunch and check-in at the hotel where you can have your lunch.
After Lunch and relaxing, head out later for an evening game drive, where you might be presented with an opportunity to sight rhinos as Ol Pejeta is the largest black rhino sanctuary in East and Central Africa.
Overnight lunch and dinner at accommodation of your choice

Lodging at 
Day 4: Ol Pejeta Conservancy 
On this day, you will have a full day at the Ol Pejeta Conservancy starting around 6:00am to view an animal sunrise hunt, then off to the site of spectacular Mount Kenya peaks. Return back for breakfast at 08:00am, then head out for a game drive until 11:30am. At this time, we reconvene for a lunch break to share our morning adventure stories!
The afternoon Game drive begins at 2:00pm, with an endangered species excursion at 4:00 pm to meet the last two Northern white rhinos.
Overnight lunch and dinner at accommodation of your choice

Lodging at 
Day 5: Ol Pejeta – Lake Naivasha 
Prepare for a unique immersive experience that Ol Pejeta offers; a bushwalk starts at 6:00 a.m to experience the life of endangered rhinos. Get an insider view of what it takes to protect these rhinos and keep their ecosystem safe. This is a moment to experience the real side of the wild, away from your vehicle. You get to see, feel, smell, touch, and get a close encounter with the Kenyan wild animals.
Talk to rangers at Ol Pejeta to find out more about the 90,000 acres of Olpejeta. Learn about the routes, best places to see wildlife, and the local endangered species. After the walk, go back to the hotel to freshen up and have your breakfast. Check out from the hotel and depart for our next adventure at Lake Naivasha. Stop at the Equator sign in Olpejeta to locate your home and continue with your journey arriving at Naivasha in time for lunch. Check-in at the hotel, where you will have your lunch, relax and rest for the day.
Overnight meal at selected hotel

Lodging at  
Day 6: Lake Naivasha 
Wake up for another beautiful morning out in nature and enjoy your breakfast. Depart to Lake Naivasha for an exciting day of safari adventure! Lake Naivasha is a freshwater lake in Kenya, outside the town of Naivasha in Nakuru County.
Much of the lake is surrounded by forests of the yellow barked Acacia Xanthophlea, known as the yellow fever tree. These forests abound with birdlife, and Naivasha is known as a world-class birding destination.
Enjoy an exciting boat ride at the lake, where we spot local wildlife. When you return, find your already ready-cooked fish with some local Kenyan 'ugali' for your lunch. Enjoy your lunch with the view of Lake Naivasha. After lunch, it's time for local shopping in Naivasha! Return to the hotel in the evening for your dinner.
Overnight meal at accommodation of choice

Lodging at 
Day 7: Lake Naivasha – Nairobi 
While this is the end of your safari journey, we hope that you take your memories and education back to share with friends and family on your own life journey! Wake up to breakfast, freshen-up, and checkout to depart back to Nairobi.
Included In Your Safari Adventure Package for Kenyan Safari Route Itinerary:
Accommodation and meals as stipulated in the itinerary 

Transportation in a chauffeur driven safari 4 x 4 Safari Land Cruiser or tour van with a pop-up roof for easy game viewing and photography 

English speaking guides, unlimited game viewing drives and parks entrance fees as indicated in the itinerary

Unlimited mineral water daily 

All meet and greet services 

24 hours stand-by contact number 

Two-way long-range high frequency radio communication in each vehicle 

On safari accessories in each vehicle: first-aid kit, wildlife books, binoculars

Wi-Fi 
Jemu Expeditions does not cover or incur the following costs:
​
Commercial or private flights 

Visa or passport costs

Items of personal nature

Laundry, tips, sleeping bags, drinks other than water provided during expedition

Accommodation before or after trek

Climbing, hiking and outdoor gear (we will provide a suggested list of items to purchase)

Health, accident or travel insurance

Other extras not detailed in the above itinerary
Suggested Packing List for Kenyan Route Itinerary:
​
Waterproof rucksack with day pack

Three season sleeping bag 

Roll mats and insulation pads

Comfortable hiking boots, light walking trainers thongs, flip – flops

Gaiters (useful when encountering snow),Wooden walking stick / ski pole, sunglasses or snow – goggles, sun hat, balaclava or woolen hat, warm scarf, gloves, mittens and thermal underwear

Sweaters, jumpers, anorak or raincoat, water and windproof pants, jackets, t-shirt, several pairs of socks

Long sleeved shirt with collar, small towel, toiletries and toilet paper

Sunscreen and lip salve

Flash light (head mounted preferable) and spare batteries

Water bottle

Camera with spare film, SD card, waterproof carry case and batteries