8 Days 7 Nights Kenyan Adventure Safari
This is an African safari that will be at the top of your adventure list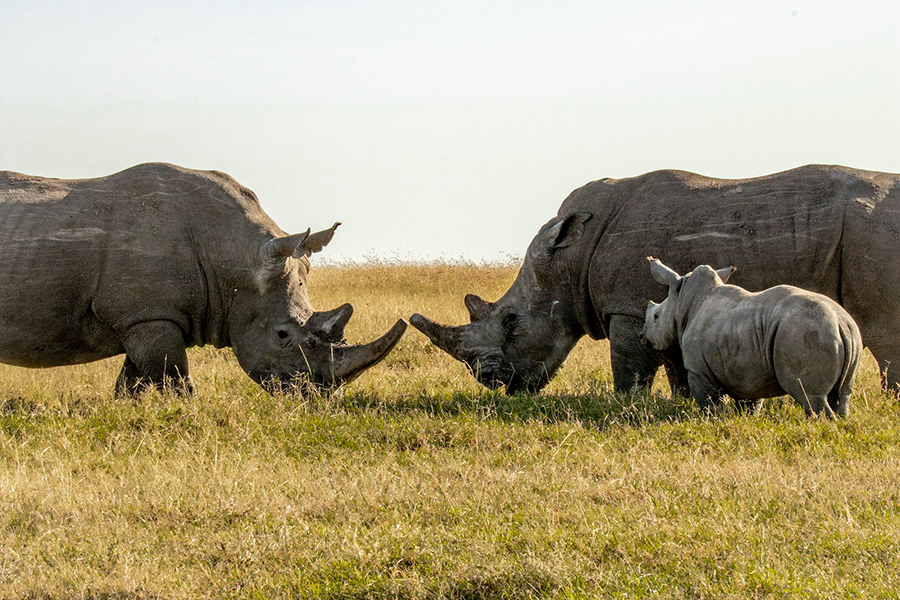 Kenyan Safari Highlights
Visit the Ol Pejeta Conservancy and view critically endangered wildlife species in their native habitat, talk to local park rangers and see the behind the scenes daily care of the famous endangered white rhinos at Ol Pejeta, where the documentary Kifaru was filmed. Find out the daily challenges of the African caretakers at the Elephant Sanctuary and get up close and personal with baby elephants in Samburu National Park! Take in the view of wild African plains at Solio Ranch and see herds of animals interacting with each other in their environment. This is an African safari that will be at the top of your adventure list! 
Day 1: Nairobi-ol Pejeta Conservancy
Meet our representative at the airport in Nairobi or at your hotel. Travel to Ol Pejeta Conservancy in Nanyuki Laikipia County in Central Kenya. Stopover in Nanyuki for your lunch, then drive to your hotel, where you will be assisted in checking in and resting for the day.
Lunch and dinner at 

Lodging at Maiyan Luxury Camp 
Day 2: Full Day At Ol Pejeta Conservancy
Prepare for a game drive at the conservancy. Some of the attractions include; black and white rhino, chimpanzees, endangered African wild dog, Oryx, Jackson's hartebeest, grevy's zebra, serval, cheetah, and battered fox. Furthermore, they will spot baboons, impalas, Elands, giraffes, and silver-backed jackals. The ecosystem also is home to over 300 hundred bird species making it suitable for bird watching. Surprisingly you can spot the big five in this conservancy.
The animals roam free in their migratory corridors except for the rhinos. The conservancy has also embraced the idea of community social responsibility. They have come up with ways to reduce human-wildlife conflict. Other activities to engage in the park are; nature walks, cycling safari, lion tracking, and dog tracks.
Lunch and dinner at Maiyan Luxury Camp

Lodging at Maiyan Luxury Camp 
Day 3: Olpejeta Conservancy – Solio Ranch – Aberdare National Park
Depart from Nanyuki after your breakfast at the hotel and drive to Solio Nyeri County, a one-hour drive from Nanyuki. The day will be spent with a full day game drive at Solio, where you are bound to see herds of rhinos on the plains. Solio Ranch is a naturally beautiful, undisturbed hidden gem as the ranch is quiet and peaceful. Enjoy natural surroundings with the beautiful flora and fauna surrounding the ranch.
Apart from the rhinos, other games you will view include; buffalos, zebras, giraffes, Oryx, antelopes, Thompson's gazelles, and impalas, among other wildlife. The park also offers the best sightings of leopards in the country, lions, and cheetahs. Later drive to Aberdare National Park.
Lunch and dinner at The Ark

Lodging at The Ark 
Day 4: Full Day At Aberdare National Park
Full day game drive at this expansive park where our professional driver will guide us to areas where wildlife commonly roams. The Salient location on the east side of the park is where we can view games such as elephants, buffaloes, black rhinos, hyenas, Suni, the smallest antelope in Kenya, leopard, and black-white Colobus monkeys, among other animals. If we are lucky, we will spot the high altitude antelope only found in Aberdare and Mount Kenya, known as the Bongo and also the giant hog! To make the most out of the drive, we will take our adventure through the bamboo forests, where you will want to photograph these breathtaking views of waterfalls and dozens of bird species!
Lunch and dinner at The Ark

Lodging at The Ark 
Day 5: Aberdare National Park – Samburu Game Reserve
Depart from Aberdare National Park and head to the North-Eastern part of Kenya Samburu County. Arrive at the hotel, where you will be assisted to check-in, and your lunch will be served. Rest for the day.
Lunch and dinner at Samburu Safari Lodge

Lodging at Samburu Safari Lodge 
Day 6: Full Day At Samburu National Park
Morning and evening game drives will be on our itinerary for us to enjoy the beauty of Samburu. This reserve is home to elephants in significant numbers, larger predators like lions, cheetahs, and leopards. Wild dogs are beautiful sightings on the reserve and the over 450 bird species that have been recorded in this ecosystem. Other animals that are frequently seen include; warthogs, olive baboons, Grant's gazelle, dik-dik, and impalas. Surprisingly black rhinoceros has been introduced in the park after its absence for 25years due to poaching.
Lunch and dinner at hotel

Lodging at hotel
Day 7: Samburu National Park – Reteti Elephant Sanctuary
Today, we embark on an early drive for approximately three hours. We head to Reteti Elephant Sanctuary to meet baby elephants. This is the first community-run Elephant sanctuary and is very instrumental in saving and rehabilitating Kenyan wild elephants.
Lunch and dinner at Samburu Safari Lodge

Lodging at Samburu Safari Lodge 
Day 8: Samburu Game Reserve-Nairobi
This marks the end of our African safari journey. From Samburu, we drive back to Nairobi for your overnight stay or drop off at the airport. Thank you for choosing Jemu Expeditions and "Asante Sana na Karibu tena" to our magical Kenya.
Included In Your Safari Adventure Package for Kenyan Safari Route Itinerary:
Accommodation and meals as stipulated in the itinerary 

Transportation in a chauffeur driven safari 4 x 4 Safari Land Cruiser or tour van with a pop-up roof for easy game viewing and photography 

English speaking guides, unlimited game viewing drives and parks entrance fees as indicated in the itinerary

Unlimited mineral water daily 

All meet and greet services 

24 hours stand-by contact number 

Two-way long-range high frequency radio communication in each vehicle 

On safari accessories in each vehicle: – First-aid kit, wildlife books, a pair of binoculars, socket for charging your electronics and fire extinguisher

Wi-Fi 
Jemu Expeditions does not cover or incur the following costs:
​
Commercial or private flights 

Visa or passport costs

Items of personal nature

Laundry, tips, sleeping bags, drinks other than water provided during expedition

Accommodation before or after trek

Climbing, hiking and outdoor gear (we will provide a suggested list of items to purchase)

Health, accident or travel insurance

Other extras not detailed in the above itinerary